News
The Mayor of Hounslow visits Staveley Road to plant a new Prunus Kanzan sapling
3rd December 2020
To mark National Tree Week, we were delighted to welcome Councillor Tony Louki, Mayor of Hounslow, to Staveley Road to plant a new tree for us. Our youngest sapling is in front of the V2 memorial and therefore very close to our oldest tree. We now have a total of 95 Prunus Kanzan on our beautiful avenue.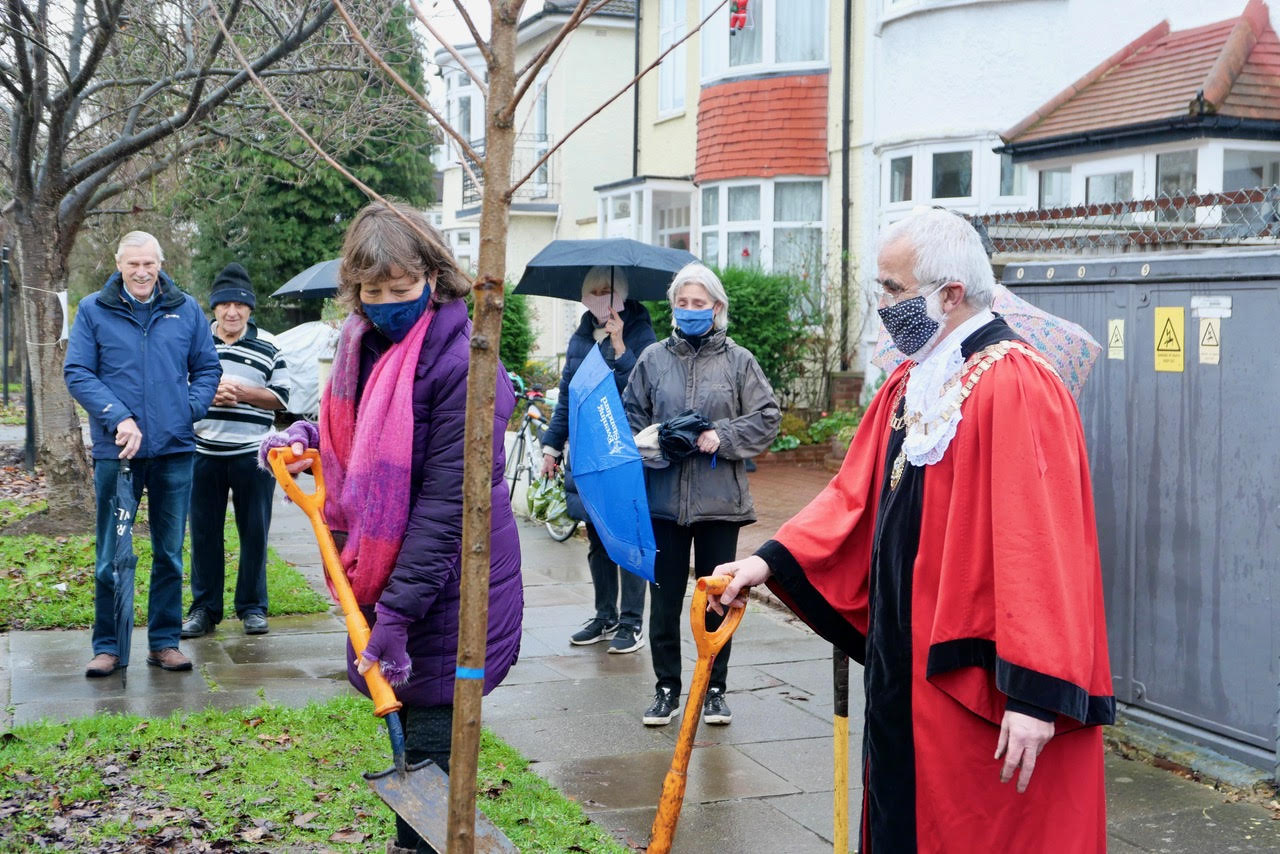 Blossom Day W4 support for Chiswick Book Festival 2020
September 2020
In Spring 2020 we were privileged to have Chiswick Book Festival's support in helping us develop, publicise and judge our Blossom Day W4 Haiku and Poem Competition. As part of the prize, our 6 winners were promised the opportunity to join a Children's Poetry Writing Workshop at the 2020 Chiswick Book Festival which is running from 10th September to 16th September, 2020.
In light of the Covid-19 pandemic, this year the Festival has moved online, with sessions taking place on video, Zoom and in podcasts. Instead of selling tickets, Chiswick Book Festival is relying on sponsorship and donations.
Blossom Day W4 is therefore delighted to be sponsoring 2 Chiswick Book Festival events which chime with our own mission to celebrate and conserve London's most beautiful avenue of cherry blossom trees on Staveley Road. Our sponsorship has been funded by a generous donation to Blossom Day W4 by an anonymous supporter who wanted to make sure our prizewinners got their promised opportunity of a poetry writing workshop
Firstly, we are sponsoring Josh Seigal's Children's Poetry Workshop. Josh is a poet, performer and workshop leader who has taken his critically acclaimed poetry shows to the Edinburgh Festival Fringe. We warmly encourage our own 6 prizewinners and Chiswick's many other blossoming young poets to watch and enjoy this video.
We are delighted also to sponsor Grove Park poet Susan Lee Kerr who will be presenting her new collection of haiku at the Local Authors' Event, to be screened Wednesday 9 September. As well as the book "The Walk Home", Susan has written about the Staveley Road blossom, and will be running a haiku writing workshop for the Blossom Day W4 celebrations on and around Sunday 11 April 2021.
'how would I see the wind
without the fallen petals'
Full details of the Chiswick Book Festival programme can be found at Chiswick Book Festival Online.
| | |
| --- | --- |
| | |
| Susan Lee Kerr | Susan's book, The Walk Home |
Plans for Blossom Day Street Party 2021 underway
September 2020
The Blossom Day W4 2021 programme is currently under development. Watch this space for news!
Blossom Day Street Party now postponed until April 2021
April 2020
The Blossom Day W4 Steering Group closely monitoring Government and Public Health England advice concerning Covid-19 (coronavirus). Above all we were concerned not to cause harm by spreading the virus. We therefore took the difficult decision to postpone the Street Party until April 2021. However, as a sign of hope at this difficult time, the Haiku and Poem Competition went ahead. You can see the prize winning entries on our poetry gallery.

And, despite Covid-19, the blossom returned to Staveley Road this spring in all its beauty and we posted photos and updates on our photo gallery.
A local band BGM recorded this lovely blossom song to go with the photos. The song was recorded under social distancing and isolation rules in April 2020.

We want to take this opportunity to say a huge thank you to all who have been so supportive of our work to ensure the 91 cherry blossom trees can survive and thrive. Thank you to our corporate sponsors, Fuller's London Pride and Horton and Garton, our community sponsors, Grove Park Group, St Michael's Church, Chiswick School and Chiswick Book Festival, plus the Good Gym, prospective stallholders, volunteers and all our residents. We look forward to working with you all again later this year to plan for Blossom Day 2021.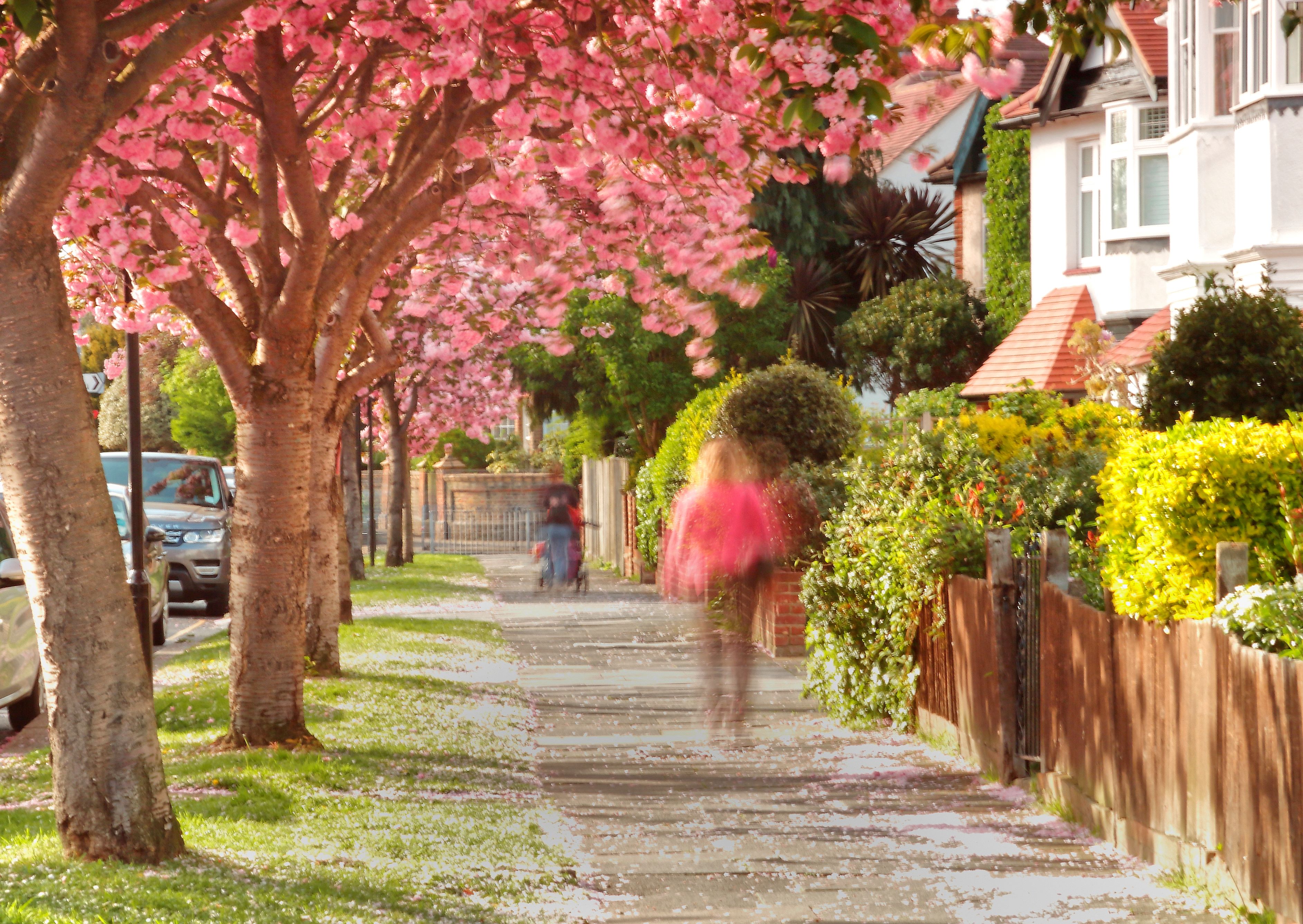 Matching Pink Copyright Jon Perry